Don't Wait to Decide
Your Home May Have Added Marketability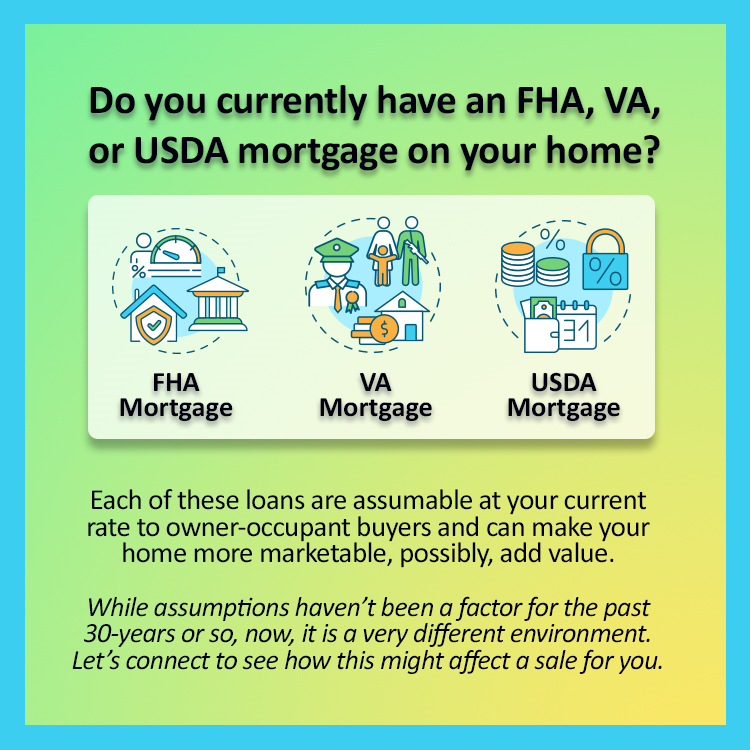 Your Mortgage Rate Depends on Several Things
More Borrowers Are Using ARMs
Concessions Make Your Home More Marketable
Sellers offer concessions as an incentive to encourage buyers to purchase their home. The concessions, paid for by the seller, benefit the buyer in ways that may be more appealing than possibly, being able to purchase the home for a lower price.
In some situations, buyers have good income, credit, and even the down payment to purchase a home but not necessarily enough cash reserves to pay their closing costs. Another possibility is that there could be a feature in the home that the buyer wants replaced but can't afford to do it themselves. If the seller agrees to make that improvement, it could cause the buyer to act favorably.
Concessions could include paying the buyer's closing costs, buying down the interest rate, or any possible combination of physical improvements or upgrades to the property.
Sellers, occasionally, question why they should provide concessions to a buyer. It should be obvious; it improves the marketability of the home. With less than the normal number of homes on the market, it may appear that the seller has the advantage and may not need to offer concessions.
Today's market is different. The decreasing number of sales and increased days on the market are resulting from a smaller than normal pool of buyers. Interest rates have more than doubled in 2022 which has made houses less affordable. Buyers who qualified last year but couldn't find a home to buy, may be able to find a home today but their debt-to-income ratio has increased significantly, causing them to qualify for smaller mortgages.
Most buyers, especially in lower priced range homes, can't afford to put more money down and human nature tends to discourage them from considering a smaller home. For that reason, they are forced out of the market until rates come down.
To counteract this dilemma, sellers are willing to consider making concessions, something that builders have successfully used for years to sell their inventory without lowering their prices that will have a direct impact on comparable sales which affects appraisals.
Concessions can take on different forms. A seller could offer to pay the buyer's closing costs or pay points for the buyer to get an FHA or VA loan. Another option would be to pay for a 2/1 buydown that would lower the buyer's payments in the first two years of the mortgage.
Any number of improvements could be offered to the buyer like appliances, floor covering, countertops, roof, fence, etc.
Typically, these would be included in the listing agreement and promoted in the listing description through MLS and other public media. When a sales contract is written, it needs to be included so that there is no misunderstanding between the parties and that the lender is completely aware of the concessions.
To avoid possible disputes, it is also recommended that a dollar limit is attached to the concession. For instance, "Seller to pay up to 3% of the sales price in buyer's financing concessions" or "Seller to escrow up to $5,000 for appliances at buyer's discretion."
Concessions have not been used much in the past fifteen years, but changing times requires us to use different methods to be successful.  Sellers can offer concessions and buyers can ask sellers to make concessions in the purchase agreement. If your agent is not familiar with concessions, it may be that they have never used them before.  They are commonplace and legal, within limits, if they are disclosed.  The benefit is that concessions can improve marketability of a home and put a transaction together between parties that would not be possible otherwise.
Average Annual Appreciation
Building Your Home Buying Team
There are a lot of professionals involved in the homebuying process. And when these people can function as a team, the buyer is much more likely to end up where they want to be…in their new home.
The lender is an integral part of the team unless you are going to be paying cash. Trust is very important when selecting this person because they are going to qualify you for the mortgage you need. The interest rate and fees should be fair based on your credit, income, and the market.
You'll want someone who can close at the rate and terms that were quoted. In a rising market, you may want to consider locking in the rate so that it doesn't go up before you close.
The appraiser is hired indirectly by the lender to determine the value of the home as part of the loan approval process. During the financial crisis of 2008, a process was created by the Dodd-Frank Wall Street Reform and the Consumer Protection Act to limit direct contact between borrowers, lenders, and appraisers.
This requirement protects appraisers from being influenced by a lender. Sometimes, an Appraisal Management Companies, AMC, may assign an appraiser who may not be familiar with a particular area or type of property. The real estate agent can act as a liaison to provide additional information about the property and area that the appraiser would not necessarily know about initially.
Once a contract has been fully agreed upon, one of the first steps is for the buyer to have a home inspection made by a professional. While most states require these professionals to be licensed, 14 states do not require one to perform inspections.
In addition to being licensed, some inspectors belong to professional organizations that provide specialized education and suggest levels of performance. Recommendations from friends who have recently purchased a home would be helpful. Your agent may give you several names of inspectors and you can ask for the buyer's contact information who used them recently to verify their results.
Pest control is not usually included in the normal home inspection. These are also licensed specialists who are concerned about termites, other insects, and vermin. If you do not have experience with a pest control company, recommendations from friends and your agent can give you a place to start.
Property casualty insurance is required by the mortgage holder but even if you were paying cash for a home, it would be prudent to have insurance. A homeowners' policy provides the broadest coverage with fire and other named perils including burglary for both the dwelling and the contents. Liability is packaged with the other coverage to protect you if someone is hurt while on your property.
Deciding based on policy price may not present a complete comparison. Another consideration is how the company handles claims in both time and settlement.
The title insurance provider is usually named in the sales contract. There are two different policies that are usually offered simultaneously but paid for separately. The owner's title policy guarantees the buyer they are getting a clear and marketable title while the mortgagee's title policy guarantees the lender that they have an enforceable lien.
The Real Estate Settlement Procedures Act gives the buyer the right to determine the provider.
Surveys are commonly required when new mortgages are established to make sure there are not encroachments on the property lines. Even in a cash purchase, a buyer may want to get a survey for the same reason. In some cases, lenders might accept a seller's previously obtained survey.
The title company usually order's the survey based on instructions from the contract or lender.
A real estate attorney is required in some states to be involved in all transactions. In other situations, a real estate attorney may be involved to draw the legal documents but in no way is representing the interests of a specific person.
A buyer or seller can consult an attorney and have them represent their interests in the transaction. Once a buyer understands if an attorney is not required in a real estate transaction, they are free to decide if they want legal representation.
The listing agent is hired by the seller when they place their home on the market for sale. In many cases, the listing agent has a fiduciary duty to put the seller's interest above their own. These duties include loyalty, confidentiality, disclosure, obedience, reasonable care and diligence and accounting.
The buyer's agent will interface with the listing agent in the various negotiations that will take place beginning with showing the property, offer, acceptance, and all the other steps that will lead to the settlement of the sale.
Agency describes a legal relationship and can apply to seller's and buyer's agents and is created once an agreement is signed; a few states have provisions for oral agreements.  Members of the National Association of REALTORS subscribe to a code of ethics that describes their practice and behavior to clients and the public.
There are many professionals involved in the purchase of a home. From a buyers' standpoint, it is helpful to have one person who is familiar with the process to be coordinating the efforts of the different parties to finish with a settlement and possession.
There are a lot of steps and even if a buyer has been through the process before, they may not have the experience to anticipate difficulties and solve issues that could derail the transaction. The role of a third-party negotiator is a valuable role that the buyer's agent plays. While the buyer is in control, the buyer's agent can provide information and background necessary for sound decisions.
The purchase of a home is the largest investment most people make. Like it takes a village to raise a child, it helps to have a team to buy a home. Finding an agent to keep your best interests at heart is the first team member you need to select. From there, your agent can help you find the other team members.
For more information, download the Buyers Guide and make an appointment, in-person or virtually, to find out how they can put together your Homebuying Team. In that appointment, ask the agent to explain agency and its benefits to you in your upcoming transaction.
Rents Are Rising Too!
Homeowners Are Equity Rich
Tiered Mortgage Pricing