Tips to Win in a hot Seller's Market
Is a Home Inventory Necessary?
Most homeowners have insurance on their home that additionally, gives them coverage on their personal property.  That is the first level of peace of mind to know that it is available to you if there is an unfortunate need for it from a burglary, fire, or some other insured circumstance.
Personal property is handled slightly different than real property.  The claims adjustor could start by asking you for a list of the things lost.  You are allowed to reconstruct it but there is a distinct possibility that you'll forget things, sometimes for months or years after the claim was settled.
An interesting exercise would be for you to visualize two rooms, possibly, the kitchen and main living area.  Without being in the room, create a list of all the personal items in plain sight and those in the closets and cabinets.  When you're through with the list, go into each room to check to see what kind of things were not on your list and what the value of those items amounted to.  It could be substantial.
Remember, you are entitled to claim them regardless of how long it has been since you used them or if you do not intend on replacing them again.
When filing a claim, the more "proof" you have to substantiate it, the better off you are.  Receipts are great but chances are, you may only have them for the big-ticket items.  Photographs or video of the different rooms are great records that the items were in your home.
An itemized list of each room with a description of the content, cost and date of purchase, supported by pictures would be ideal.  This type of documentation will make filing and settling a claim much easier.   The more documentation you have, the more likely you are to have a favorable settlement.
The more expensive the item, the better it would be for you to have receipts, serial numbers and photographs.  A simple count of some items like clothing will suffice like four pairs of jeans, 24 dress shirts, etc.  More valuable items of clothing like a cashmere jacket or a silk dress should be listed individually.
Depending on the frequency that you purchase new items for the home or possessions, you'll need to consider updating the list and photographs.  Moving creates opportunities to get rid of things that haven't been used for years and to acquire things for the new home.  It is always a good idea to complete a home inventory after you've moved and settled into your new space.
If you would like to have more tips and a form to itemize your possessions, download the Home Inventory.  This will even allow you to include pictures and store it in digital format for safe keeping.
Deciding on Whether to Move

Some homeowners feel like they may as well throw a dart against the wall to decide whether to move or not.  Other people might invoke a process attributed to Benjamin Franklin.  Supposedly, to evaluate the options and bring clarity to the choice, this American founding father would list all the reasons for and against the decision on a sheet of paper.  After reducing it to writing, the choice would appear either by obvious majority or practicality.
Buying a home is an emotional decision but selling a home can be also.  Separating the rationale from the emotion can make decisions seem obvious but they may still not be crystal clear.
There is an inventory shortage that caused prices to rise and market time to shorten.  In many active markets there is less than 30-days' supply of homes for sale which is half of what was available a year ago.  This will make it easier to sell and maximize the proceeds from your current home.
69% of economists who participated in the first quarter 2021 Zillow Home Price Expectations survey believe home inventory will begin to grow in the second half of this year or the first half of 2022.
Mortgage rates are near record lows which will keep payments at a minimum.  With the inflation rate in the United States expected to be between 2-3%, many borrowers consider that it balances with the mortgage rate to be an effective zero percent.
"Consumers are facing much higher home prices, rising mortgage rates, and falling affordability, however, buyers are still actively in the market," said Lawrence Yun, NAR's chief economist.  "At least half of the adult population has received a COVID-19 vaccination, according to reports, and recent housing starts and job creation data show encouraging dynamics of more supply and strong demand in the housing sector."
The pandemic has allowed many buyers have the flexibility to work from home for now and in some situations, permanently.  That opens new location possibilities options that would not have existed if they had to commute to work daily.  Economists believe that the increased preference to work remotely will be a permanent shift even if it is only a part of the work week.
This provides opportunities for homeowners to relocate in an area that doesn't have the high demand that their current area does and could benefit from more affordable housing for the replacement while possibly, maximizing the sales price of their current home.
Good information specific to your needs is essential to making good decisions.  Explore the possibilities with your real estate agent.  They can provide facts about the sale and purchase of another home.  Once you have the facts, you may use the Ben Franklin Balance Sheet to help you with your decision.
"Mise en Place" for Homebuying
In cooking, "mise en place" describes having all your ingredients measured, cut, peeled, sliced, grated, as well as bowls, utensils and pans ready to use before you begin cooking.  The advantage is to inventory the ingredients and recognize if you have everything you need.  You are less likely to leave out an ingredient or step because it is "set up" and ready to use.
The same technique works well in the homebuying process, especially in today's highly competitive environment where multiple offers are normal and bidding wars are commonplace.
Check your credit … not only does credit determine if you will get a mortgage, but it will also determine the interest rate you'll pay.  The best rates are for the borrowers with the best credit; lower credit scores mean higher rates because of additional risk to the lender.  Free copies are available from all three major credit bureaus at www.AnnualCreditReport.com.
Determine your budget … knowing your income and immediate living expenses will give you a feel for what you can afford but you also need to know what big-ticket expenses are in the future and how much you should be saving for them.  Lenders use debt to income ratios to qualify borrowers, but it may be more than the buyers feel comfortable with.  This is good information to discuss with your mortgage professional.
Meet with a mortgage banker … their job is to get borrowers approved and instead of using calculators on a website, a trusted, experienced mortgage professional can look at your credit, make suggestions if it can be improved, run verifications on income, assets and liabilities and suggest loan programs to benefit your specific situation.  They can even provide a pre-approval letter and phone verification that may be the tipping point to negotiating a successful contract with a seller.
Initial investment … The down payment and closing costs are related to the type of mortgage, which is generally, dependent of how much of the buyer's savings is available.  The down payment can range between zero and 20%.  Mortgage insurance is necessary on most loans if the down payment is less than 20%.  Buyer's normal closing costs range between two to five percent of the mortgage.
Costs of homeownership – Most mortgage payments include the principal and interest plus 1/12 the annual property taxes and insurance plus mortgage insurance if required.  Other expenses that will be incurred by the homeowner include maintenance, HOA dues, utilities, upkeep and replacement of equipment and appliances.
Process and timeline … people tend to feel more comfortable when they understand the process of buying a home and the length of time it takes for the different steps.  Your real estate agent will be able to provide this information to you based on the type of mortgage and local market conditions.
Know the numbers … being familiar with the basic statistics makes planning and even, negotiation easier to predict.  Important data, relative to the type of property you are buying, includes the current supply of homes for sale, days on market, sales price to list price ratio, and percent of cash sales in your price range.  This is another area that your real estate professional can be very helpful.
Must-have features … the concept of a "dream home" is more myth than reality.  People rarely get everything they want even when they are building a home.  Especially, in a highly competitive market with rapidly increasing prices, buyers should create a list of their "must have" and "nice to have" features and amenities.  This can be helpful when you are determining whether to write a contract on a home.
Build your team … buying a home is like an athletic team.  By selecting the best "players" for each position, you will have a much better chance for a successful sale and a satisfactory transaction.  Your real estate agent is in a unique position to guide you through the entire process and recommend trusted professionals for each job that needs to be done.
An excellent meal includes fresh, good food, the right ingredients, superb preparation, and execution.  Whether you are following a recipe or doing it from memory, each step is important and affects the outcome.  The same is true for buying a home.  Get everything together before you start looking at homes.
For more information on buying a home, download our Buyers Guide.
Simple Rates of Return
Looking for a simple way to determine if a rental property will give you the rate of return you want?  This modified annual property operating data may be just what you've been looking for.
There are many different rates of return that investor's consider to determine whether a property will generate the yield that they expect.  Sometimes the simplest of calculations can tell you whether you want it or not and if you get the other things like tax advantages and appreciation, it just makes it that much better.
The first yield we will look at is commonly called the Cash-on-Cash rate of return.  It is calculated by dividing the initial investment, usually down payment and closing costs, into the Cash Flow Before Tax.
To arrive at Net Operating Income, it is simply taking the gross scheduled income, less vacancy allowance and all operating expenses.  From that is deducted the annual debt service which is the principal and interest payment times twelve.  The remaining amount is referred to as Cash Flow Before Tax.
In this example , the initial investment of the down payment and closing costs, $66,000 was divided into the Cash Flow Before Taxes of $5,468 to get an 8.28% Cash-on-Cash rate of return.
The second yield to be considered is called Equity Build-up.  Each payment made on an amortizing mortgage pays a portion toward the principal balance to retire the loan.  It is calculated by dividing the initial investment into the principal contribution for the year.
Continuing with the example, $66,000 is divided into the principal reduction for year one of $4,606 to get a 6.98% Equity Build-up rate of return.
This approach is easy to understand because you are not considering depreciation, anticipated appreciation, holding period, recapture of depreciation or long-term capital gains. Simply rent the property, pay the bills and if there is money left over, it pays a return on the initial investment.
The same goes for the Equity Build-up.  When you make the payment on the mortgage, the loan is reduced and while you don't have access to the money like cash flow, it is definitely your equity and tangible.
To determine whether an ROI on a rental is good, compare it to what your initial investment is earning currently.  Ten-year treasuries are earning less than 2%.  Certificates of deposit are earning less than 1%.
For more information, download the Rental Income Properties  guide and schedule an appointment with your real estate professional.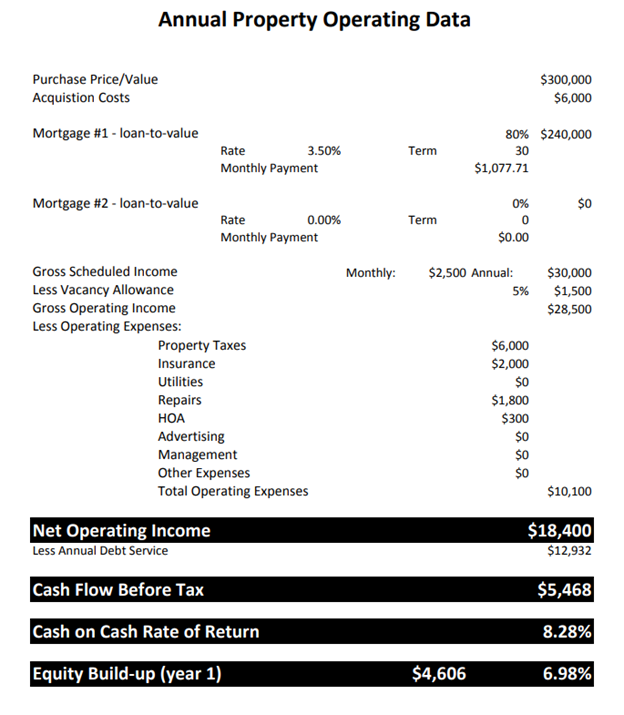 Hot Home Trend: A Color 'Bomb' of Yellow
The cheerful color of yellow is lighting up home design ever since paint firm Pantone chose "Illuminating"—a bright, bold yellow—as one of its 2021 Colors of the Year. Yellow commands attention and is often used as an accent color in throw pillows or rugs. It also could make for a great color pop in outdoor accent pillows.
Yellows are being used in more kitchens, too, particularly for a high-contrast look in white or gray kitchens. Consider adding a yellow jar or vase filled with fresh greenery, a bright yellow serving piece, or even yellow kitchen stools to make an island standout.
Yellow is a bold color and should be used sparingly. It can be overpowering and can change the lighting in a room—making you appear slightly green on a Zoom call. But in small doses, yellow may be just the ray of sunshine to help brighten the mood in your home design.
Get inspired with these designs featured at Houzz.(link is external)
NAR Applauds Latest White House Initiatives to Combat Housing Discrimination
WASHINGTON (JUNE 1, 2021) – National Association of Realtors® President Charlie Oppler issued the following statement today as President Joe Biden travels to Tulsa, Oklahoma, to mark the 100th anniversary of the Tulsa Race Massacre and unveil new initiatives designed to close racial wealth gaps. The administration's proposals focus primarily on expanding opportunities for small business and home ownership.
"The horrific acts of violence and property destruction that occurred in Tulsa 100 years ago and the subsequent public and private policies that frustrated the recovery of 'Black Wall Street' help illustrate why racial wealth gaps persist in America today," said Oppler, a Realtor® from Franklin Lakes, N.J., and the CEO of Prominent Properties Sotheby's International. "We commend the Biden Administration for its commitment to closing the gap, specifically by focusing on the intergenerational wealth building opportunities offered by property and home ownership.
"NAR is particularly encouraged by the administration's most recent efforts to address inequities in the home appraisal process, and we support a thorough review of the current appraisal system alongside both public and private stakeholders. We look forward to working with White House and HUD on other upcoming rulemakings that seek to more effectively combat housing discrimination and redress the legacy of residential racial segregation."
The National Association of Realtors® is America's largest trade association, representing more than 1.4 million members involved in all aspects of the residential and commercial real estate industries.
https://www.nar.realtor/newsroom/nar-applauds-latest-white-house-initiatives-to-combat-housing-discrimination
May 2021 Willamette Valley Market Review